I finally found safe headphones that look, sound and work great, finally.
I've always been on the hunt for good headphones. I have
a dozen around my house
at any time, much to the chagrin of my wife. I suppose I'm always looking for that perfect sound, and not quite finding it. For every positive, there's a flip-side of problems with headphones.
The problem with ear buds is that they can be uncomfortable and cause fatigue.
The problem with over-the-ear headphones is that they get hot and sweaty and are cumbersome to carry around.
The problem with corded headphones is that the cord gets in the way.
The problem with Bluetooth is the sound is potentially less full range.
The problem with noise cancelling headphones is that effect can damage your hearing with prolonged use.
The problem with noise isolating headphones is that you may be unaware of important ambient sounds around you.
The problem with neither noise cancelling or isolating headphones is that you are then less likely to hear the music well.
Well, now I think I may have just found the solution to these problems and more. Introducing
the new
Trekz Titanium
by AfterShokz!
These use a new and booming technology called "bone conduction." Basically, rather than sit on your ear, these sit in front of your ear and pulse the beats through your bones to the base of your ears!
I've been using bone conduction for years, but in a different way. If you've ever used a Jawbone Bluetooth handsfree headset, you have too. That used bone conduction to send sound out. This uses the same technology to send it in.
It's safer, too. Why? Because 1) you can't damage your ear drum with loud music and 2) you won't be cut off from the ambient sounds around you. You can hear the music clearly, and also what is going on around you as needed.
These have a great bluetooth driven wonders last 6 hours on a charge, are water and sweat resistant and include perks like dual noise canceling mics, voice prompts, smartphone integration and a 2-year warranty.
Check out this cool video about them: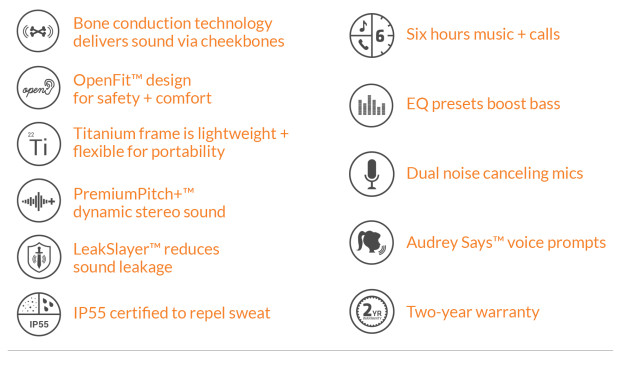 I already ordered mine. This is not available to the public yet, so if you are interested, you can go
through me
.
Follow my exclusive link
here
. Once in, you can sign in with your own account or for simplicity, you can sign in with your Facebook account (it won't post to your timeline). You may have to sign in then click
this link
again to make sure the offer and discounted price shows up for you.
There is a limited number of people who can get this, so if you want to be one of them, act NOW!
If you want to be the first person you know to have these, check out this link and contribute. Once these go for sale in public, the price will go up and you'll be late to the party.
Check them out
now! The offer expires and has a limit of people who can get them at this lower than retail rate!